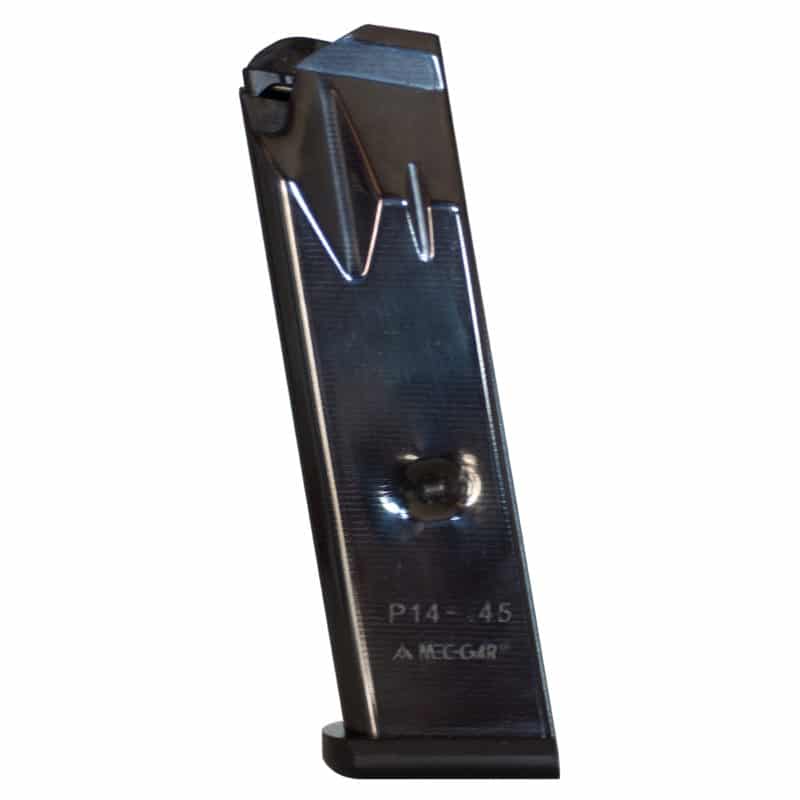 ARMSCOR / ROCK ISLAND DOUBLE STACK & PARA-ORDNANCE P14 .45 ACP 10-ROUND
$33.60 $36.65
Compatible Firearms: ARMSCOR / Rock Island Double Stack & Para-Ordnance P14
Caliber: .45 ACP
Capacity: 10 rounds
Coating: Blued / Nickel
Follower: High-impact polymer
Tube: Heat treated carbon steel. Dimpled design accepts standard Mec-Gar floorplates, springs, and followers.
Spring: High tensile music wire
Floorplate: High-impact polymer
SKU (Blued): MGP144510B — UPC: 765595115101
SKU (Blued): MGP144510N — UPC: 765595115200
NOT COMPATIBLE WITH PARA PRO CUSTOM P14.45 PISTOL OR AFTERMARKET POLYMER BASEPADS
NOT COMPATIBLE WITH FUNNELED MAGAZINE GUIDES
Safe Shopping
Buy with confidence, your data is safe.
Flate-Rate Shipping
Get your items quickly with flat-rate USPS.
Description
.45 ACP - 10 rounds
If you are looking for a magazine for your ARMSCOR / Rock Island Double Stack or Para-Ordnance P14 pistol, choose the magazine manufacturer that is the most trusted in the industry.
All Mec-Gar magazines are made in Italy with the most sophisticated technologies and best materials.
Since 1965 Mec-Gar has been a world leader in the production of magazines for the largest firearm manufacturers and militaries in the world.
Specifications
| | |
| --- | --- |
| Caliber | .45 ACP |
| Capacity | 10-round |
| Finish | Blued, Nickel |
| Firearm Make | ARMSCOR / Rock Island & Para-Ordnance |
| Model | ARMSCOR / Rock Island & Para-Ordnance P14 |
Only logged in customers who have purchased this product may leave a review.